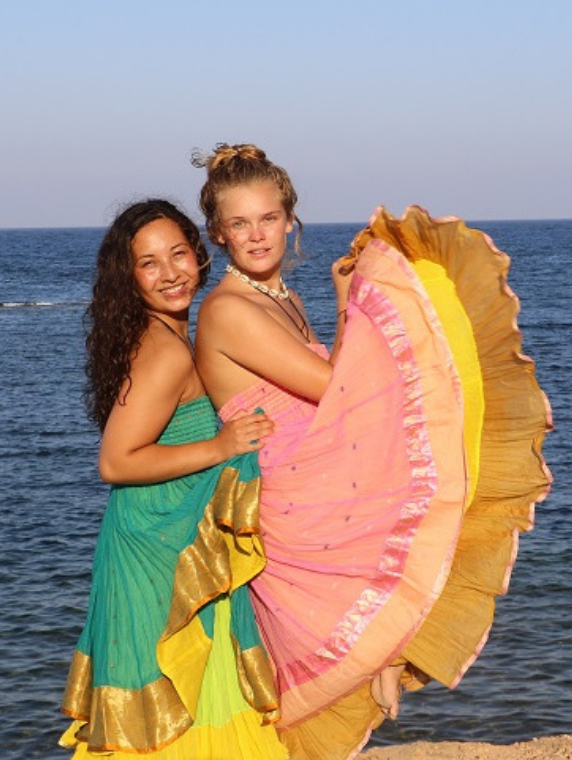 The magnificence of Rangoli colours and Tangail fabrics
Nearly everybody feels the impact of colours on their feelings. Red, orange, brilliant yellows, and shades of pink can invigorate and lift up the mood. A woman wearing them will feel more joyful and will draw joy to her as well. Blue can be calming and purifying; greens can be rejuvenating, etcetera.
Rangoli is an old artistic expression that is found all through India. Intricate patterns are skilfully drawn on the doorsteps or courtyards of Hindu dwellings and temples. They make use of white "pulis" or dots, around which lines are drawn, creating beautiful sacred geometry forms, or images of nature such as flowers and animals.  Rice, flour, sand, turmeric, vermilion and flower petals are all used to fill up the forms with vibrant colours. The patterns and motifs used in the Rangoli´s are handed down from generation to generation as family traditions. Rangoli in Sanskrit signifies and design in colour and or all the more expressively & the  declaration of imaginative vision through the cheerful utilisation of colours.
IBIZALIVING extraordinary and unique Naksha skirts , Rangoli scarfs and Mala jewerly are Tangail Traditions creation, designed by Prema Florence Isaac. Each and every piece begins with a wonderful limited version of sari, hand-spun and woven and weaved by the master craftsman's of the Tangail weavers.
The Tangail weavers are absolute masters of the handloom; Tangail sari is light-layered, translucent and textured.  By working directly with them in their villages, the designer Prema is not only able to recreate in her Atelier the traditional sari designs, but also to come up with innovative design for her own custom fabrics. The collaboration results in the translucent interleaved fabric layers that are used in some of her creations. The fabrics are constructed from the finest quality hand-spun yarns, hand-dyed with traditional pigments in the most refined Rangoli colours.