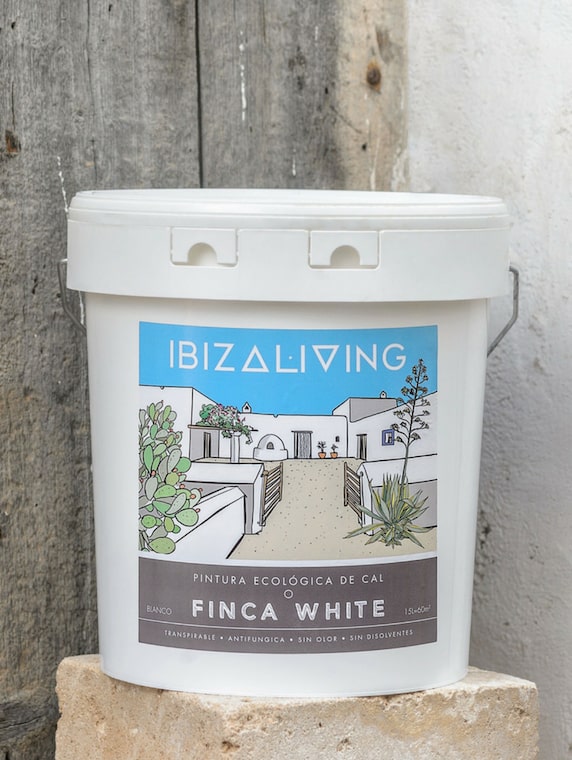 IBIZALIVING INTRODUCES ECOLOGICAL LIME PAINT RANGE
Lime paint is a simple mix of lime and water, the use of which dates back thousands of years to the days of ancient Egypt and Rome. Contrary to its name, lime paint refers not to the use of the fruit or colour of the paint, but to the process of burning limestone in a kiln which vents carbon dioxide (CO2), leaving behind calcium oxide (CaO) otherwise known as "quicklime." When combined with water – hydrated or "slaked" – it becomes "lime." Thanks to its alkaline PH, the product contains natural antibacterial, fungicidal and anti-mold properties and furthermore, absorbs the carbon dioxide (CO2) present in its environment, making the air around us naturally healthier to breathe.  
Popular in many Mediterranean and European countries, Lime paint has been put to many uses in its time, including as mortar for building, antiseptic ointment for animals, and even for food preservation. Having formed part of the rich history and culture of Ibiza, many lime kilns and ovens are still intact and can be found in hidden pockets of Santa Ines and San Carlos today. While the uses of this unique product are multifold, its brilliant whiteness and non-toxic, mildly antibacterial properties makes the product particularly suited for use as paint, on both interior and exterior surfaces.
In keeping with our philosophy of creating sustainable products that incorporate the principles of nature, IBIZALIVING is proud to have developed a unique range of ecological lime paint. Our collection of colours is inspired by the five elements of nature, the first of which to launch is Spirit / FINCA WHITE; ideal for creating a beautifully luminescence finish for your house or villa, and retaining the age old tradition of lime painted Ibicencan fincas.
A great alternative to mass produced paints that are often laden with toxic chemicals, our range of Ecological Lime Paints work in harmony with nature, creating an environment that positively enhances those in and around it.
The benefits of lime paint:
Our range of lime paint is made with natural lime taken straight from the ground. With only mineral additives and no plastics or hydrocarbons.
The timeline of this product speaks for itself in terms of durability; used on structures throughout the ages, lime paint is fire retardant, moisture resistant and also protects the structure of buildings in severe weather conditions and damp. Furthermore, it is unaffected by direct UV rays, and will not crack, fade or lose colour after continuous exposure to sunlight.
Lime paint is a breathable product, meaning that it is able to eliminate and eradicate excess humidity and condensation from within the surface it is painted on. This prohibits the growth of bacteria, mold and mildew, which is particularly beneficial in warmer or tropical climates.
The natural make up of lime paint will help to keep the inhabitants of its structures warmer in cooler climates, and cooler in warmer climates. It is able to decrease the demands from electronic climate control systems, saving energy and costings to its structure.
IBIZALIVING believes that in creating environments that work in harmony with nature, we can positively nurture our bodies, minds and spirits – the introduction of our new range of lime paint is a natural progression for our brand, and allows us to help preserve a sacred technique that has been used for millennia.
Remaining 4 elements colours yet to launch include:
FUEGO RED for Fire
CACTUS GREEN for Air
BLUE MAR for Water
YELLOW PLAYITA for Earth